Site-specific sound installation and workshop
12 – 24 April 2018 — Galerie AMU (GAMU) Prague
By Donia Jourabchi and Taufan ter Weel
Curated by Sara Pinheiro
Waveguides is a sound installation developed specifically for Gallery AMU. It explores the concept of wave-guiding architecture in relation to spatial perception. For that purpose, the gallery is occupied with different microphones, loudspeakers and other electroacoustic technologies, turning the space itself into a listening circuit.
Additionally, other materials articulate a path of physical vibrations, situating the visitor within an acoustic labyrinth: the space is re-wired, re-channeled, re-connected into an acoustically modified arrangement. The sound waves on site construct new relations with surroundings and ears.
The lecture From Inner Ears to Other Spaces discusses the relationships between the social practice of listening and (electro)acoustic architectures. It explores waveguides in relation to different conceptions of space and time. Technically, a waveguide is a physical structure (tube or solid) which directs sound or electromagnetic waves and minimizes the loss of energy by restricting the expansion to one or two dimensions. In other words, it confines the direction of sound propagation. This amplifies the reach and modifies the ways in which we experience and conceptualize space and time.
We opened the exhibition to other artistic interventions during the course of a 5-day workshop. Participants were asked to develop their own site-specific work, which was presented at the second opening (part B).
Program of the exhibition
11/4 — Opening part A
12/4 — Lecture
12-17/4 — Workshop
17/4 — Opening part B (outcome of the workshop)
Text by curator and artists.
Special thanks to Eliska Zakova (GAMU), Jiří Rouš, Jitka, Michal Cáb, Brona, Matej Senkyrik and workshop participants (see part B below), and indirectly the Institute of Sonology.
Photos by Oskar Helcel, Erika Štěpánková.
Supported by the Ministry of Culture Czech Republic, Center of Audiovisual Studies FAMU and the Department of Composition HAMU, Prague.
EXHIBITION PART A (12-16/4)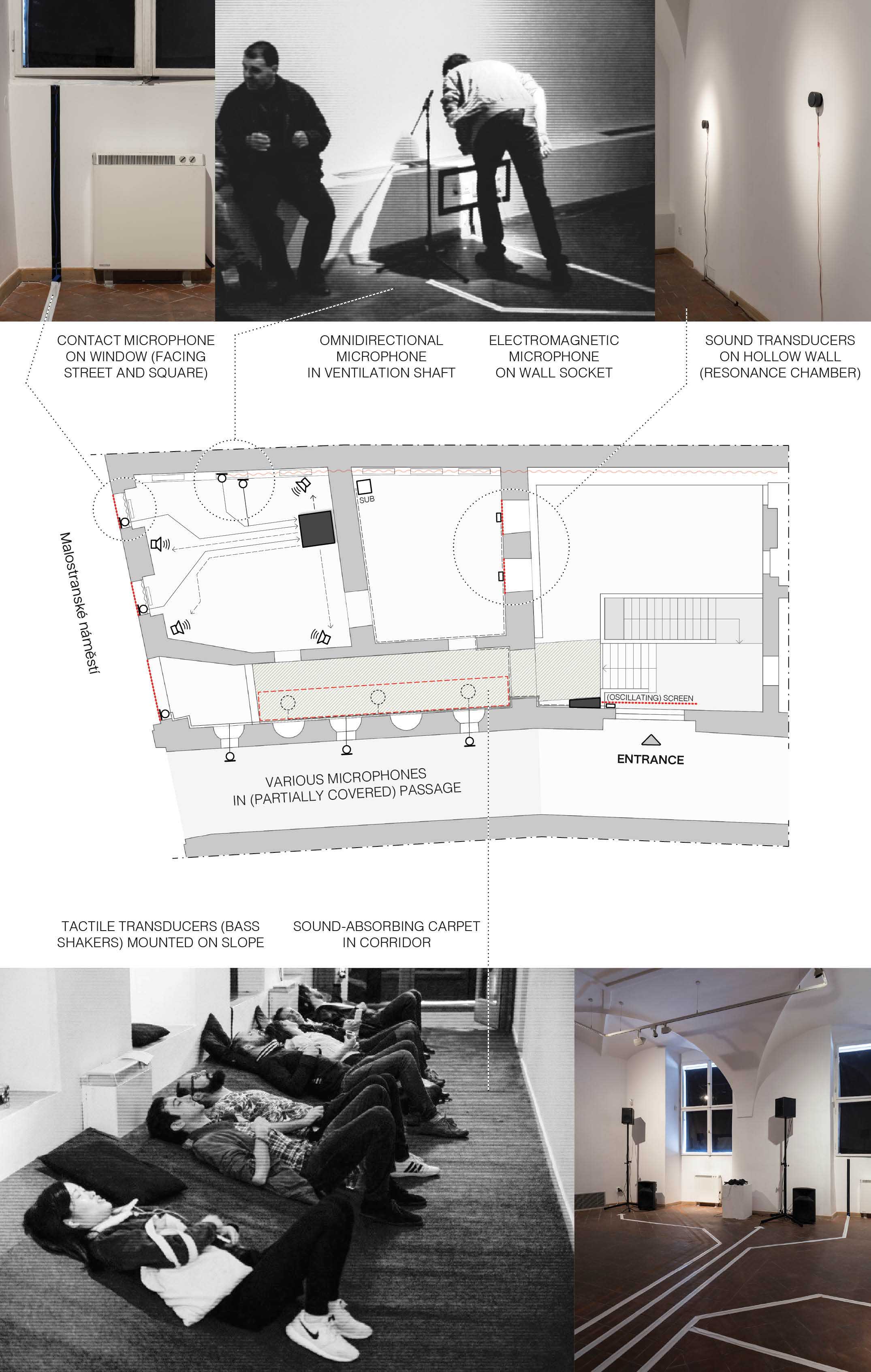 EXHIBITION PART B (17-24/4)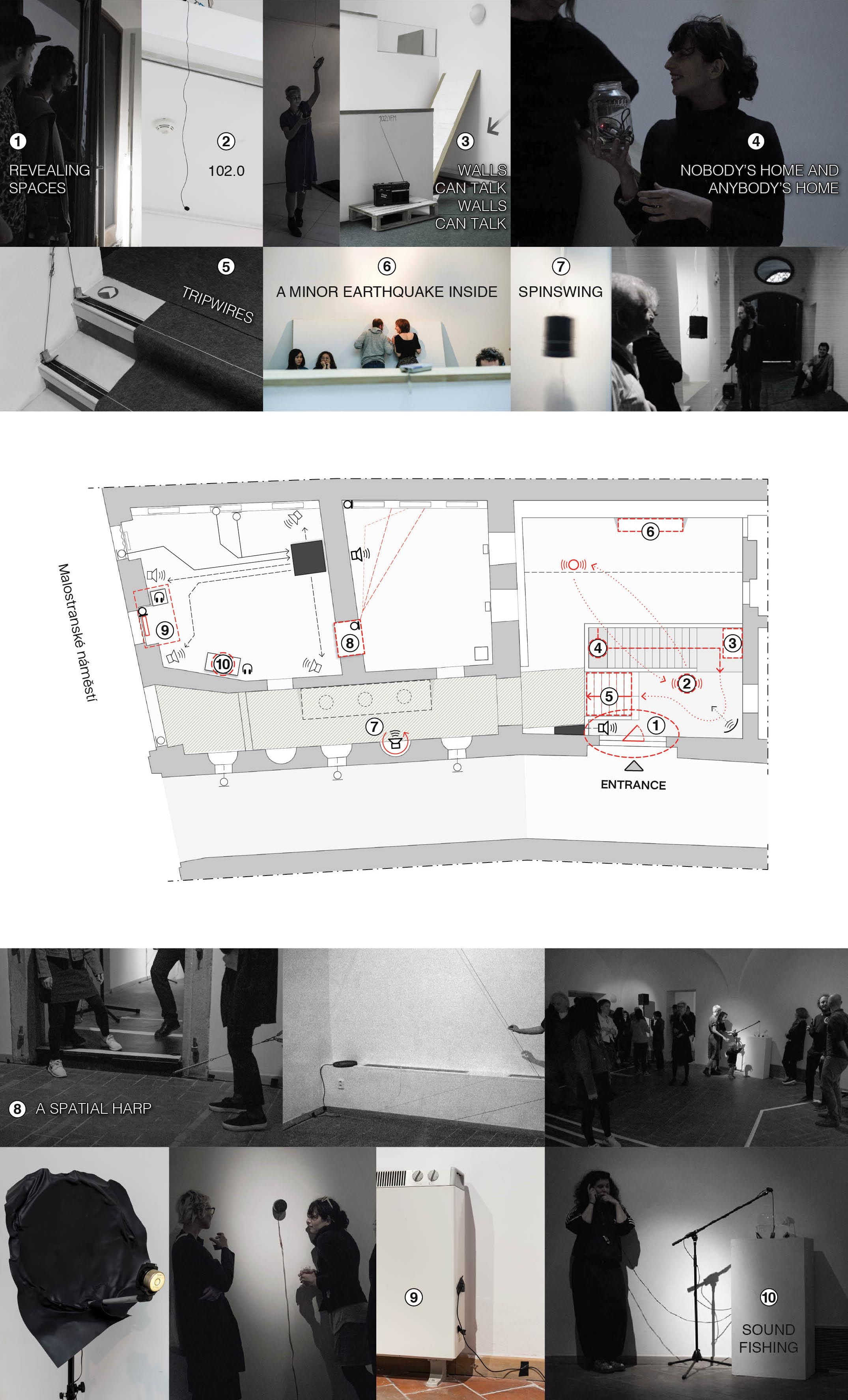 More documentation soon.
1. Revealing Spaces — Gaurav Krishna
2. 102.0 — ACM (Alexandra Cihanská Machová)
3. Walls Can Talk Walls can talk — Veronika Přistoupilová
4. Nobody's home and anybody's home — Veronika Dostálová
5. Tripwires — Petar Mrdjen
6. A minor earthquake inside — Vendula Guhová
7. Spinswing — Jiří Rouš
8. A Spatial Harp — Dorothy Yip
9. Untitled — Zhijun Song
10. sound fishing — Sara Pinheiro